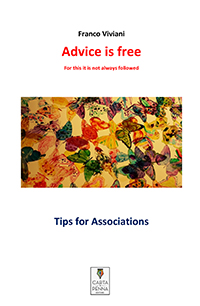 The recent pandemic has accelerated the transition between the analogic world and the digital and network world. New technologies can allow the creation of an associative and participatory culture, but also favor mass manipulation. The distinction between the two is somewhat nuanced. We do not know the developments of this accelerated transition, because the creation of boundless social networks, with ties that are established and relentlessly dismantled, and new social environments that acquire their own identity online, can change the way in which associations have been intended till now.
We are aware that our way of living everyday life, of communicating, of establishing relationships with others are changing. Our sense of time and space can be reshaped, our personalities redefined, the same collective intelligence can change. Therefore, we must strive to be worthy of the new times, both as individuals and as associated subjects.
This volume represents a compendium of small papers that I have written and published in recent years and represents numerous topics which have in common trends in studies on topics related to an association's life.
The basic purposes of a publication such as this are consistent with the goals of the magazines Boardroom and Antrocom, that kindly published some of the small articles I propose here.

They are:
1) To develop within the perspective of anthropology, a greater understanding and appreciation of the need for and application of studies useful to improve our knowledge of an association's life.
2) To attempt to define the different topics, to present a range of pertinent research findings, and to identify problems involved in the associative life.

All the photos depicted here are mine, collected worldwide from 1976 to date.