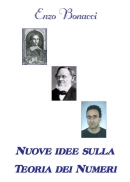 I tentativi di ridurre lo schema risolutivo di sfide matematiche secolari a poche pagine di logica stringente hanno destato l'interesse di un pubblico sempre più vasto, convincendo l'autore a questa pubblicazione.
Il saggio qui presentato contiene alcuni articoli già noti nonché degli inediti di approfondimento sul tema.
Esaminate da esperti subito dopo la prima edizione, molte fra le dimostrazioni proposte sono risultate fallaci, ma l'approccio seguito ha colpito per originalità ed è servito come spunto per successive collaborazioni nell'ambito della branca della matematica nota come Teoria dei Numeri.
***
NEW IDEAS ON NUMBER THEORY
The attempts to reduce the solving scheme of mathematical open challenges to few pages of strict logic raised the interest of a wide audience, convincing the author to this publication.
The present essay contains some already known papers and new reviews upon the theme. Many of the proposed proofs were ruled out by experts soon after the first issue of the book; nevertheless the original approach was appreciated and became a starting point for successive collaboration in that branch of mathematics called Number Theory.